| | | | | | |
| --- | --- | --- | --- | --- | --- |
| From Afar | Entrance | Entrance | Colonnade | Colonnade | Entrance |
| | | | | | |
| Entrance and Colonnade | Cobra Wall | Pyramid of Unas | South Tomb | | Heb Sed Court |
| | | | | | |
| Heb Sed Court | Pyramid of Userkaf | House of the South | House of the South | | |
| | | | | | |
| | | | | | Serdab |
| | | | | | |
| Heb Sed Court | Heb Sed Court | Foot Steps | Foot Steps | Pharaoh and Family? | Pyramid and Heb Sed Court |
| | | | | | |
| Heb Sed Court | Heb Sed Court | Heb Sed Court | Heb Sed Court | | Pyramids |
| | | | | | |
| In the Distance | Looking to the Desert | Breaking In | Breaking In | Breaking In | Breaking In |
| | | | | | |
Accesses: 313
The Step Pyramid was built by Djoser (2668-2649 BC) the last pharaoh of the 5th-Dynasty, and designed by Imhotep. It is part of the Saqqara complex. The design incorporates a series of mastabas placed on top of one another. This was the first time that stone was used instead of brick. The Jubilee Chapels were used to celebrate Djoser's 30th anniversary of coming to power. The Pyramid of Unis (2356-2323 BC), 5th-Dynasty, was the first pyramid to have its galleries decorated. The Pyramid of Userkaf (2498-2491 BC), founder of the 5th Dynasty, is known as the "ruined pyramid" because of its poor condition.
Identifier: 84, Last Accessed: 2018-04-20 02:04:31
Copyright: © A. O. Newberry & Co. 2007-2018
All rights reserved.
Last Modified: Fri Jul 29 2016 09:10:20.



--------
Galleries
Egypt
Saqqara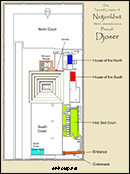 --------
Change Log
Collections
Contact
Galleries
Help
Home
Introduction
Maps
References
Table of Contents
Technical Information