Temple of Isis

Temple of Isis

Temple of Isis

Birth House

Temple of Isis

Temple of Isis

Western Colonnade

Western Colonnade

Kiosk of Nectanebo I

Kiosk of Nectanebo I

Kiosk of Nectanebo I

Kiosk of Nectanebo I

Kiosk of Nectanebo I

Landing

Landing

Western Colonnade

Western Colonnade

Eastern Colonnade

Temple of Arensnuphis

Eastern Colonnade

Western Colonnade

Western Colonnade

Main Entrance

Upper Right Pylon

UpperLeft Pylon

Main Entrance

Main Entrance Detail

Left Pylon Entrance

East Colonnade

Colonnade Detail

Colonnade Detail

Colonnade Detail

Colonnade Detail

Colonnades

Coptic Defacement

Inside Courtyard

Inside Courtyard

Looking Northwest

2nd Pylon

Looking North

Birth House Wall

Inner Courtyard

Hypostyle Hall?

Hypostyle Hall?

Inside

Temple of Augustus

Temple of Isis

Temple of Isis

Temple of Hathor

Temple of Hathor

Vestibule of Trajan

Temple of Isis

Back to the boat

Trajan's Kiosk

Gateway of Diocletian

Cofferdam
Accesses: 394
The temples associated with Philae were originally located on the island of Philae. The island was inundated when the Lower Aswan dam was built in 1906. The temple complex was moved to the island of Agilka by UNESCO in 1960 and was reopened in 1980. All paintings were lost while the temples were submerged.
This was a major shrine. Earliest construction on the island of Philae is assumed to date from 690 BC. The temple complex was closed by Justinian in 55 AD. It ended formal worship of ancient Egyptian gods.
Identifier: 78, Last Accessed: 2018-03-20 07:44:12
Copyright: © A. O. Newberry & Co. 2007-2018
All rights reserved.
Last Modified: Fri Jul 29 2016 09:10:20.





--------
Galleries
Egypt
Aswan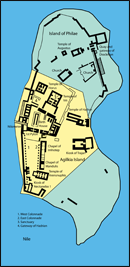 --------
Change Log
Collections
Contact
Galleries
Help
Home
Introduction
Maps
References
Table of Contents
Technical Information