Esna is a small farming community on the Nile. There are both locks and a hydroelectric facility there. Note that the height of the bridge over the locks determines the height of the river marine traffic. The Temple of Khunum is also here but we did not stop to see it.
Identifier: 61, Last Accessed: 2017-11-17 06:48:49
Copyright: © A. O. Newberry & Co. 2007-2017
All rights reserved.
Last Modified: Fri Jul 29 2016 09:10:20.





--------
Galleries
Egypt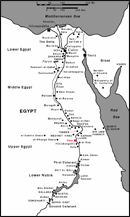 --------
Change Log
Collections
Contact
Galleries
Help
Home
Introduction
Maps
References
Table of Contents
Technical Information