Grand Canal

San Giorgio Maggiore

Grand Canal

Santa Maria della Salute

Grand Canal

Library of Saint Mark

Lion of Venice

Lion of Venice

Toward the Grand Canal

Toward the Grand Canal

Library of Saint Mark

Library of Saint Mark

Doge's Palace

Toward the Grand Canal

Toward the Grand Canal

St Theodore

Column Base

St Mark's Campanile

St Mark's Campanile

St Mark's Basiliica

St Mark's Campanile

The Loggetta

St Mark's Campanile

Procuratie Nuove

Museo Correr



St Mark's Basiliica

St Mark's Basiliica

St Mark's Basiliica

St Mark's Basiliica

St Mark's Basiliica

St Mark's Basiliica

Horses of Saint Mark-Lysippos

Horses of Saint Mark-Lysippos

St Mark's Basiliica

St Mark's Basiliica

St Mark's Basiliica

St Mark's Basiliica

St Mark's Basiliica

St Mark's Basiliica

St Mark's Basiliica

St Mark's Basiliica

St Mark's Basiliica

Pillars of Acre

St Mark's Basiliica

St Mark's Basiliica

St Mark's Basiliica

Pillar of Acre

Porta della Carta

Tetrarchs

Porta della Carta

Porta della Carta

Porta della Carta

Procuratie Vecchie







Lamppost Base

Venice Lion















The Line for St. Mark's

The Line for St. Mark's

Procuratie Nuove

Procuratie Nuove

Procuratie Nuove
Image/s: circa 2003 Accesses: 382
Piazza San Marco is the principal square of Venice, Italy. Piazza San Marco is extremely popular with tourists, photographers, and Venetian pigeons.&nbsp The Piazza originated in the 9th century as a small area in front of the original St Mark's Basilica. It was enlarged in 1177. The buildings around the Piazza (see map) are, counter-clockwise from the Grand Canal, the Doge's Palace, St Mark's Basilica, St Mark's Clocktower, the Procuratie Vecchie, the Napoleonic Wing of the Procuraties, the Procuratie Nuove, St Mark's Campanile and Loggetta and the Biblioteca Marciana. The Correr Museum is located at the southern end of the Piazza. The Venetian Mint lies beyond the Biblioteca Marciana on the bank of the Grand Canal. The Piazza was paved in the late 12th century with bricks. In 1723 the bricks were replaced with a complex geometrical pavement design. In 1890, the pavement was renewed "due to wear and tear". The part of the Piazza between the Doge's Palace and the Biblioteca Marciana is the Piazzetta San Marco. It is open to the mouth of the Grand Canal, and is known for the columns of Venice's two patrons, Marco and Todaro, that stand by the water's edge. The lion of Saint Mark and the statue of Saint Teodoro of Amasea who is standing on the sacred crocodile of Egypt are on their tops. These columns constituted the official gateway to Venice. Executions were carried out here. Since 1480, three ships' masts have faced the waterfront. They fly the banner of St. Mark on feast days.
Identifier: 465, Last Accessed: 2018-03-18 20:49:19
Copyright: © A. O. Newberry & Co. 2007-2018
All rights reserved.
Last Modified: Fri Jul 29 2016 09:10:20.





--------
Galleries
Italy
Venice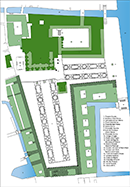 --------
Change Log
Collections
Contact
Galleries
Help
Home
Introduction
Maps
References
Table of Contents
Technical Information